INVESTING SUCCESSFULLY – LIKE THE PROS
Trade yourself and follow the pros – ALL IN ONE APP
Follow MyMoney combines all the important building blocks of successful investing on one platform and in one app: Trade all the important asset classes yourself on stock exchanges worldwide. Or copy the strategies of successful investment professionals, our star traders and star investors – and secure the performance of asset managers to which otherwise only millionaires have access.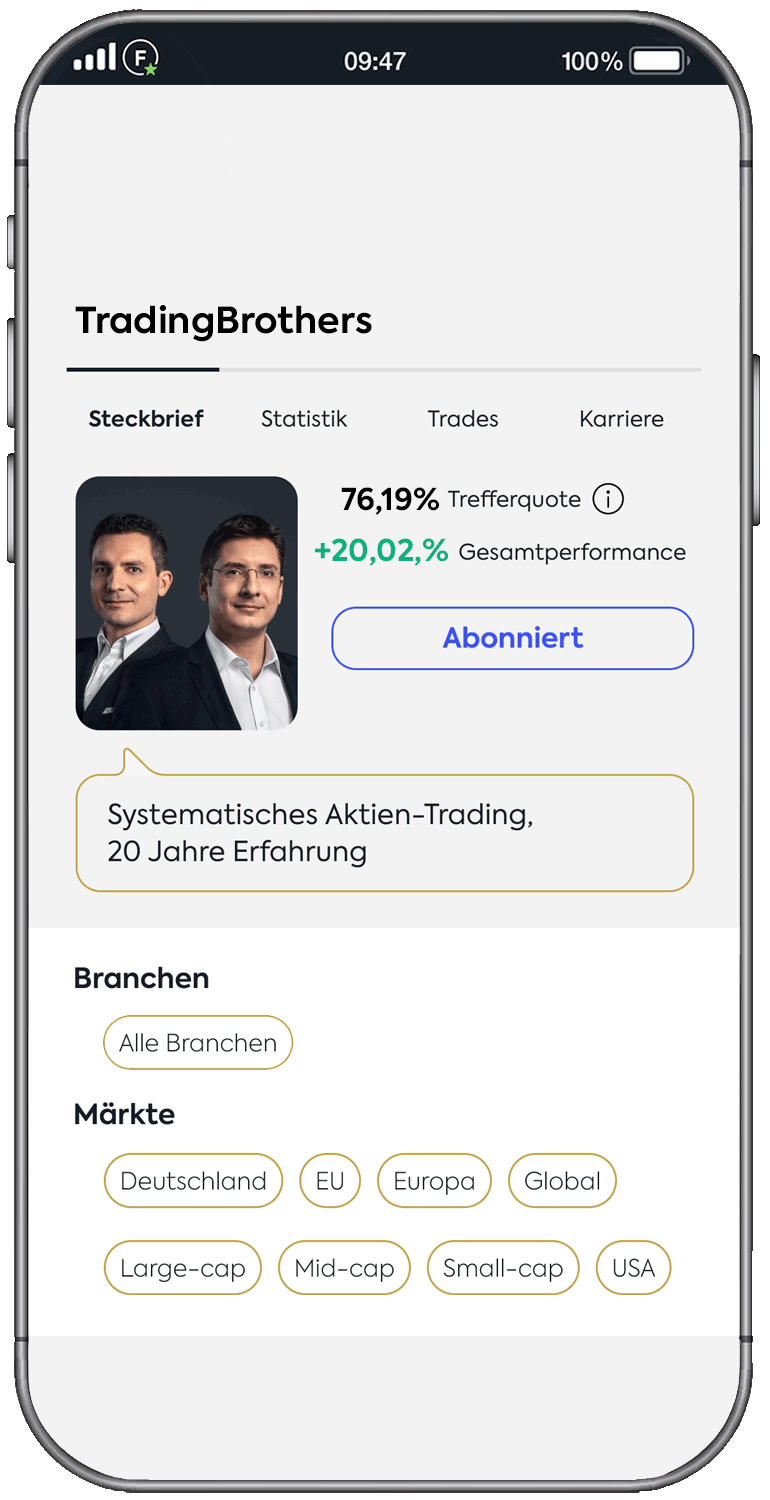 "Social trading is great – provided you follow an expert. We have chosen to provide our clients only with experts."
Jens Labusch (CEO)
WEALTH MANAGEMENT
Don't follow just anyone when investing, follow successful professionals. At Follow MyMoney you can copy the trading and investment strategies of tested and certified investment experts: Follow MyMoney's star traders and star investors all successfully implement their strategies with their own money. All you have to do is follow.
DEPOT
More than a 1 euro broker. With Follow MyMoney you buy and sell stocks, ETFs, certificates, warrants and cryptocurrencies on exchanges worldwide. Trade all major asset classes like a pro: without hidden costs and rebates at fair and transparent conditions – and without account or custody account fees.
Invest your money yourself broadly diversified in company stocks of your choice and participate in the growth of the markets. Buy individual shares of successful companies in a targeted manner.
The FELS Master-Trader combines the wide range of trades of the individual star traders into a best-off for you – fully automatically. You will never miss a good trade again!
Invest your own money broadly in funds or invest in an ETF that tracks an index or industry.
Put your money on gold, silver and diamonds. Or participate in the increasing importance of special metals for high-tech products.