SOCIAL TRADING BECOMES STAR-TRADING
Our MyTrader offer takes social trading to the next level: Don't follow every hot tip, but the recommendations of qualified and tested professional traders. Their strategies are based on in-depth analyzes, control systems and sustainability in every phase of the stock market – know-how that pays off for you. Risk management instead of wild gambling. So that trading no longer feels like a game of chance.
TRADING BASED ON TRANSPARENT FEES
Our customers can use the app and follow our Star-Traders for free. The only charge incurred is the order fee for real money trades, ranging from 5 euros to a maximum of 49 euros based on the volume. The order fee covers processing of the trade and contributes to financing the Follow MyMoney app. It also includes a reward for the Star-Trader. Even so, the costs are no higher than with most direct banks – and are even generally lower.
FULLY AUTOMATED TRADE-FOLLOWING FEATURE
Whether you´re in a meeting or on a plane, simply allow your Star-Trader to automatically and conveniently choose the perfect time to sell. You will then no longer miss a single sell signal, be it to limit your losses or to take a profit.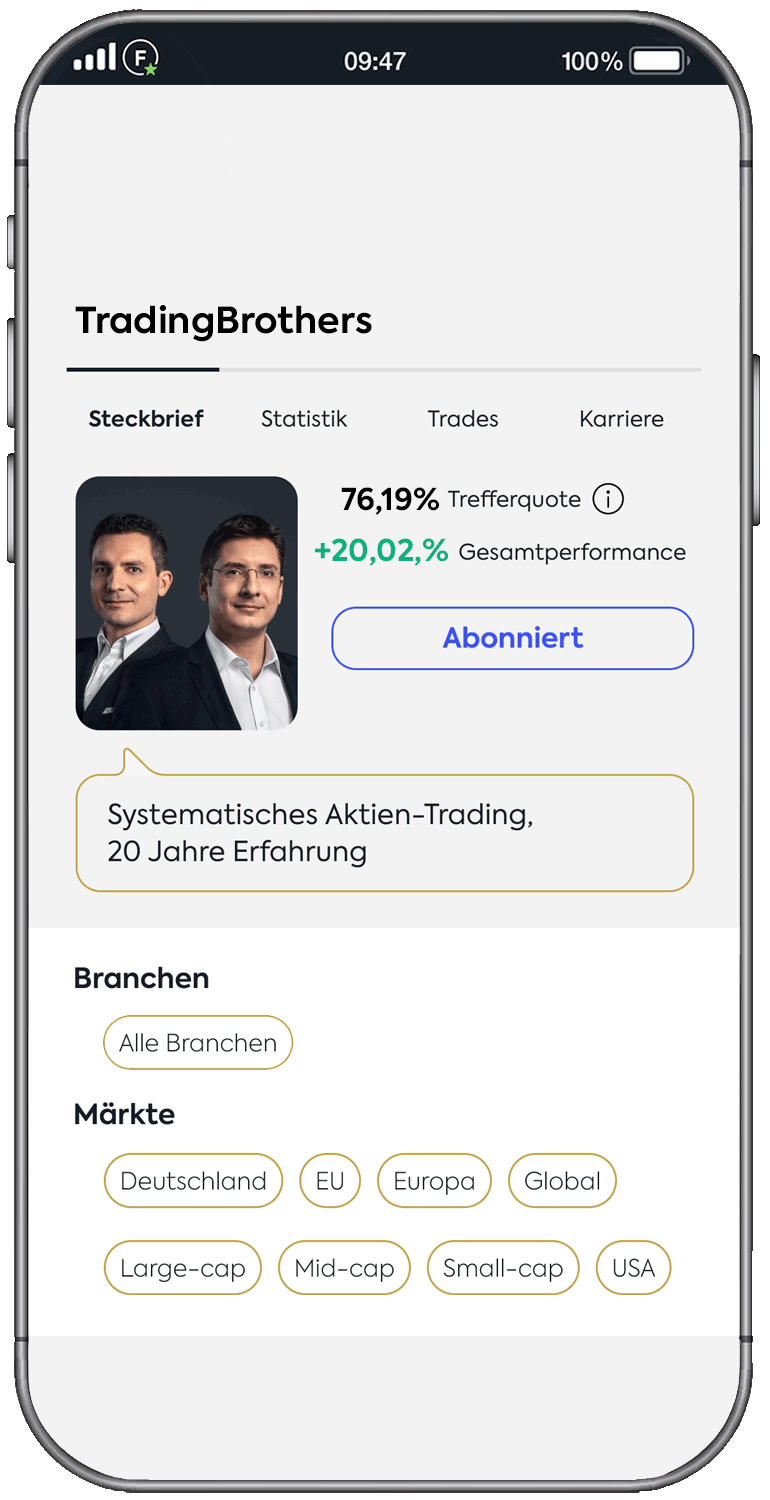 JUST ONE CLICK
Following a trade is just one click for customers – if you don't follow automatically anyway. But before a recommendation goes live, the Star-Traders invest a lot of time and know-how to find the right trade for the customers and themselves. After all, all of our star traders have their own capital invested in every trade.
THE STAR QUALIFICATION
With MyTrader, you follow nothing but professional traders with many years of experience who are considered and selected on the basis of strict quality criteria. This is our way of guaranteeing that you only trade with reputable traders – and that you can place your trust in our Star-Traders. You can identify our Star-Traders by the Star Qualification, which we award for compliance with clearly defined criteria.