SUSTAINABLE GROWTH FOR YOUR WEALTH
You are looking for a long-term investment strategy for your money! With MyInvestor you invest in funds and investment strategies of selected star investors. You get access to forms of investment and conditions that are otherwise only available through asset managers.
MyInvestor arranges independent wealth management for everyone. Our offer is holistic and unique: We make funds accessible, which you can only buy through financial advisors with considerable entry hurdles – easily and from 1,000 euros.
Increase your wealth – at unrivaled conditions.
STAR INVESTORS
The Star Investors are leading international asset managers that we have selected for you. Earning power and sustainability are important criteria when choosing investment strategies. Only MyInvestor offers this holistic investment approach.
INNOVATIVE AND HIGH YIELD: MYINVESTOR
We select our products based on long-term performance and risk classes. We provide orientation in the investment jungle of thousands of approved mutual funds in Germany – without being dependent on commissions!
We do not charge any subscription fees, administration fees or custody fees for purchases.
Your funds are in your own account and are protected by German banking law.
The funds and strategies select specialists with many years of experience in asset management. We regularly review our fund list.
You can choose from top funds in different asset classes.
All funds are actively managed investments with a broad risk diversification.
The funds have a stable investment process and are oriented towards long-term strategies in growth markets and sectors.
You invest like professionals through our unique market access. MyInvestor removes barriers to entry and gives everyone access to first-class financial products from professional administrators.
We do not limit ourselves to a sustainability approach, but assume that our Star Investors act responsibly and ethically.
STAR INVESTORS VS. ETFs
Good funds outperform the index. But the best outperform it by a wide margin! MyInvestor's goal is for you to invest your money in these funds.
That is why we have selected managers who actively manage their funds and who are able to beat the benchmark index on the long run. For good reasons:
Through active management, the funds of our Star Investors can perform better than indices. ETFs, on the other hand, are linked to a market and its index.

ETFs can hardly or not sufficiently map trend markets and megatrends such as climate and environmental protection. Our managed funds are much more flexible here, also because they buy shares outside of indices.

ETFs track a market index but not an investment strategy. MyInvestor funds operate and invest strategically and can cover different markets and asset classes.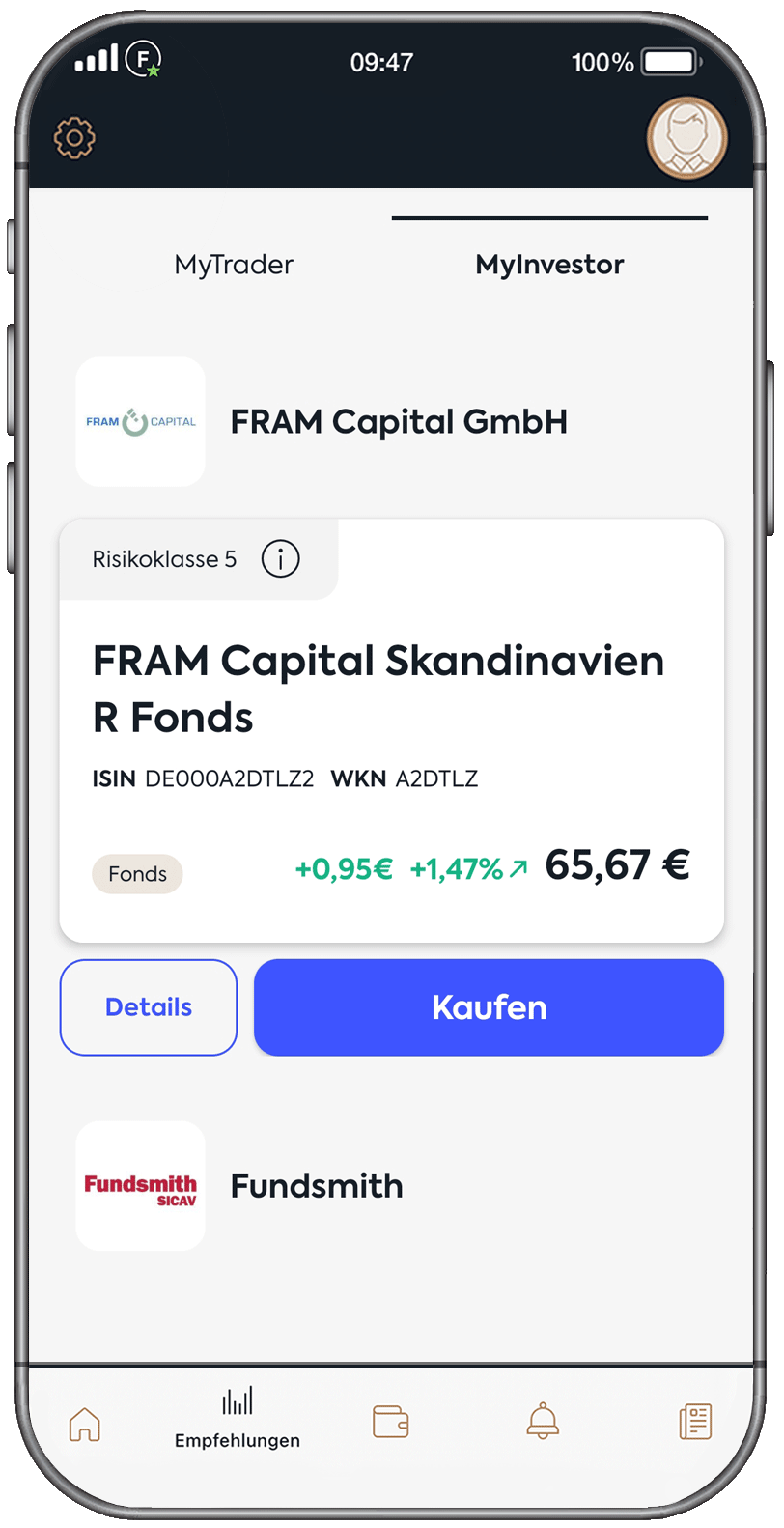 FOLLOW MYMONEY: DISCOVER MORE PRODUCTS!
For holistic financial management, you can diversify your assets at Follow MyMoney into different types of investments.
The combination of our offerings for a diversified portfolio provides the best opportunities for strategically successful asset accumulation.