DON´T PUT MONEY ASIDE YOU CAN INVESTS
Successful asset accumulation does not work via your usual deposit account. The pressure on savers and traditional banks to invest is rising due to inflation and negative interest rates.
Year after year your saved money buys you less. So it's more important than ever to build a diversified portfolio of assets to preserve and grow your wealth
Stability in uncertain times – that is what an investment in rare commodities promises. Invest in gold, platinum, rare earths and much more.
Gold, silver, platinum and palladium – precious metals are not only suitable as a store of value, but are indispensable in the production of machinery and primary materials and are therefore a valuable resource. Secure your prosperity for yourself and your family – with edel metals.
Technology metals are increasingly needed in future industries, for example in the solar industry or in the manufacture of smartphones and computers. Their deposits are scarce and their extraction is expensive.
Diamonds are not only popular as gemstones. Diamonds also have their advantages as an investment. Since they are not traded on the stock exchange, they are decoupled from the stock market. Diamonds have a very high value density.
Rare earths (rare earth metals) are absolutely essential for modern industry. The demand for rare earths will continue to rise steadily in the future. They are also needed for the production of mobile devices, Macbooks and Windows PCs.
Invest in shares – for example of blue chip companies like Apple or Tesla or in shares from the renewable energy sector. Realize your own strategy.
With this highly speculative product, secure the right to buy a specific underlying from a counterparty or sell it at a predetermined time and price.
With this speculative financial product, you secure a debt security. The performance of the certificate depends on the performance of other financial products and allows you to participate in the success (or failure) of a stock market transaction.
Invest in funds to build wealth. Choose your favorite or invest in one of 15,000 funds.
Mit ETFs investieren Sie breit gestreut in Indizes oder auch in ganze Branchen und Märkte.
YOUR ADVANTAGES WITH FOLLOW MYMONEY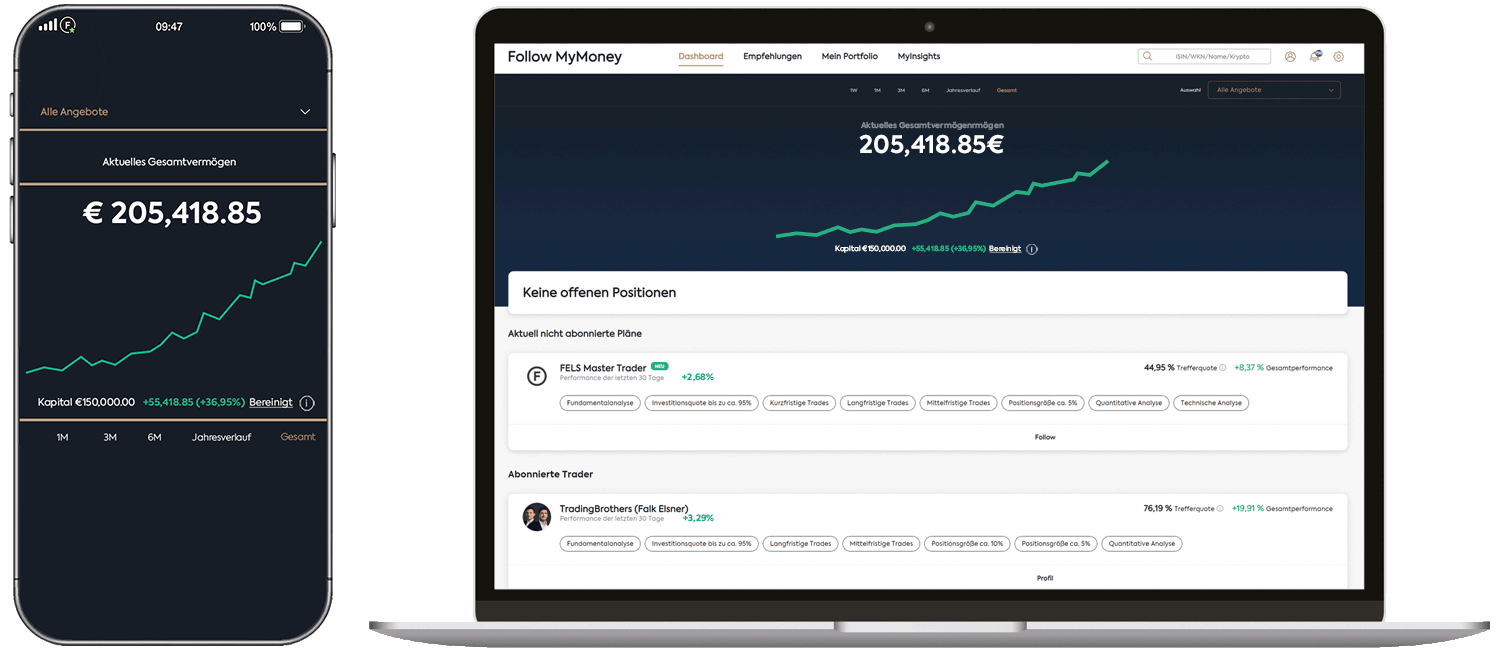 With MyBroker a product of Follow MyMoney you can invest your money widely in assets of your choice and participate in the growth of the markets. No matter whether you mirror an index or track an industry via an ETF, buy targeted shares of successful companies or invest in the new, recently rapidly expanding crypto market.
You define your own mix of investment – or you may leave the decision to our professionals and follow the recommendations of selected stock market experts. More information about our Star Traders can be found at MyTrader. Build your wealth strategically. With your personal investment mix and the combination of all products at Follow MyMoney.